Toddler Girl Gift Guide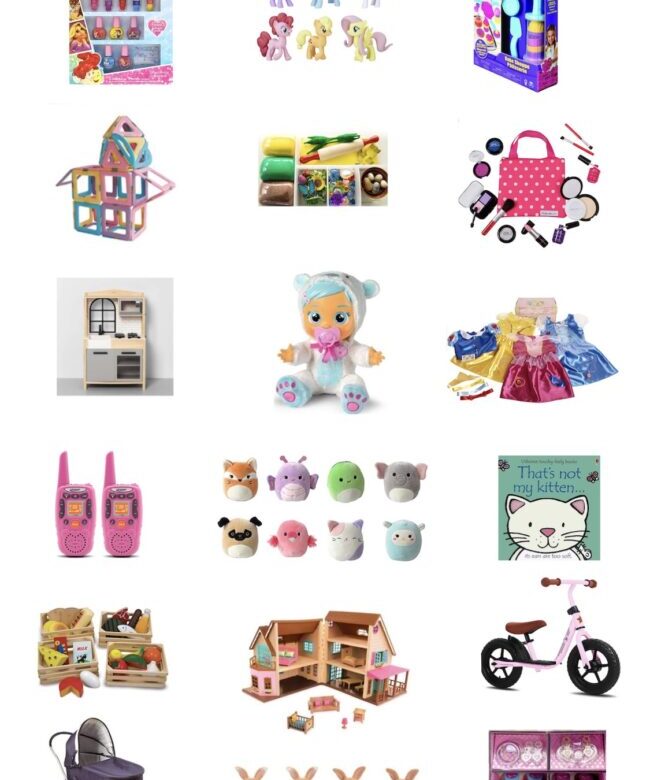 This is my favorite age for both girls and boys!  They say the BEST one-liners and have so much excitement for life!  I loved watching my little girls as toddlers watch me take care of their younger siblings and want to have their own baby doll, or stroller.  There were so many great options out there this year for Christmas gifts for toddler girls….but here were are giving you our top 20!
Flower Garden Set:  This is the cutest set of stems and parts for flowers for your little girl to sit and be creative making her own designs.
Doughsie Dough Kit:  This is one of my favorite things I have ever given my girls.  Toddlers love them, but even my 10 year old loves them!  These kits come with three loaves of bright colored doughs and lots of trinkets to use to build their own worlds and creations.  I love the creativity these kits spark, and there are so many different ones to choose from!
Princess Shoes and Jewelry Dress Ups:  How fun is it to see them walk around in pretend high heels?  This box contains different sets of princess shoes and jewelry for your little woman to get fancy in for play time.
Pretend Make Up Kit:  Little girls want to do everything their mamas do.  This little pretend make up kit is the perfect thing for her to feel like a big girl and get ready next to her mama.
That's Not My…. Books:  We love these books at our house!  They are simple which allows my toddlers to learn them quickly and feel like they are reading.  There are tons of different ones to choose from and I love the textures and bright pictures in them!
Magnatiles:  You can truly never go wrong with a gift like this for a toddler.  My twins, who are 4, will spend hours building with their magnatiles!  I love this set that has fun girly colors!
Walkie Talkies:  This cute set of two walkie talkies are so fun for playtime with friends!
Balance Bike:  When each of my children were 2-3 years old we introduced a balance bike to them rather than training wheels.  They truly teach them to balance and push themselves to coast which helped my kids ride two-wheel bikes without training wheels so quickly!  This one is adorable and such a good price!
Lil' Woodsie Doll House:  I love these cute little characters!  Toddlers sometimes aren't ready to jump into Barbie and her playhouse, but this is the cutest set perfect for a toddler!
Lil' Woodsie Bunnies: Perfect little set of a Woodsie family to go with the dollhouse!

Hearth and Hand Play Kitchen:

 I always get excited to see what Joanna Gaines will come out with next and this play kitchen is ADORABLE!
Interactive Baby: This baby is on the top toys list for Target and is so cute! She even cries real tears!
Dress-Up Princess Dresses:  You need some dresses to go with the shoes and jewelry for sure!  This box is filled with several to choose from for an awesome price.
Mini Squishmallow Set:  We love Squishmallows!  If you have never felt one of these little animals they are super soft and squishy!  I love this set of minis so that your little one can play with all their little friends!

Kinetic Sand Bake Shop:

 Kinetic sand is the best!  Surprisingly it is so easy to clean up–it is very different from regular sand.  I like to store mine in a large tupperware with a lid so they can play in it like a little portable sand box.
My Little Ponies:  Isn't it amazing how long these have been around and are still popular!?  My girls loved these as toddlers!
Nail Polish and Lip Gloss Set:  My little girls are ALWAYS wanting me to paint their nails.  I think it is so fun to give them their own little collection of polish to choose from, and these are much more conducive to toddlers which makes the mess less:)
Melissa and Doug Play Food Set:  I love everything from this company but especially their play food.  It is such great quality and all made from wood.
Baby Doll Stroller:  There truly is nothing cuter than a little toddler girl with her baby doll and she most definitely needs a little stroller to push her around in!
Wooden Animal Jigsaw Puzzles:  Puzzles are so great for stimulating their little minds! We love the bright colors and simplicity of this set!