Teen Girl Gift Guide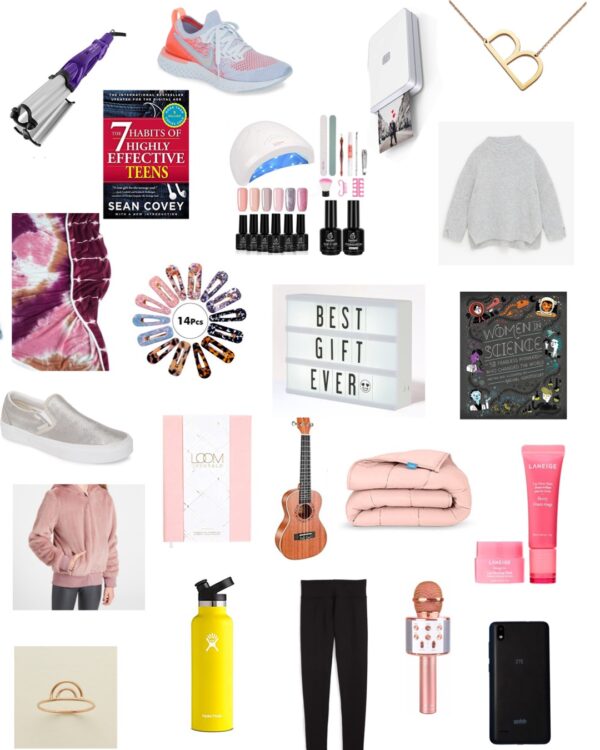 I had so much fun making this guide! I have a 13 year old girl, so I listed some things that we have and loved and I also polled her and her friends on what they were asking for christmas! This stage is so fun to shop for!
This hair waver has been huge hit in our house this year!
LOVE These

Nikes!

 My kids seem to go through athletic shoes really fast! Love grabbing them a new pair for christmas!
This

mini bluetooth printer

is perfect for printing pictures from their phones. Teens love to have pics to hang around their room, or in their binders at school!
A knock-off anthropologie initial necklace! Less than $10 and is sure to make a statement!

7 HABITS FOR HIGHLY EFFECTIVE TEENS!

 We love self-help and personal development books.  This one is awesome for teens and such a great thing for them to read at such a pivotal time in their lives!
Gel nails kit! My daughters friend has this, and they have so much fun with it! This is defietly going under the tree this year:)
I love to give my kids a new outfit for christmas. I got both of my girls this sweater and it is so cute! Comes in 3 colors.
These giant swaddle blankets from goosebumps are TDF! So ridiculously soft, and comes in really fun patterns that your teen will love!
Barettes are all of the rage right now! We love this set!
 This Original Cinema Lightbox! My daughter asked for room decor…I think she will have so much fun with this!

Woman in Science book

! I love to gift my kids a book series as well as something educational. This book is about 50 pioneer woman who changed the world!

Glittery Vans

! Vans are everywhere right now! So fun to see something that was poplular when I was in highschool come back!
The Loom Journal is a place for you to strengthen the one-on-one relationship between you and your child. With more than 300 prompts and activities inside, the Loom Journal will help you share feelings and experiences together by writing on the side-by-side parent and child pages. This would be so awesome to help you stay connected to your teen!

ukulele

. My kids all got ukulele's a few years ago, and have loved them! There are so many tutorials on youtube you can totally get away with not having an instructor!
weighted blanket. If you have been around swoon club for a while then you know our love for weighted blankets! They are life changing! Helps me sleep better as well as reduce anxiety and stress. My kids all have one and are obsessed. We have dubbed it as the "magic blanket" in our household.
Laneige lip mask! There is a reason why the internet has gone crazy over this stuff over the past few years! The most hydrating lip balm out there… plus it smells so good! My teen is constantly using mine, so she is getting her own this christmas!

Rainbow ring

. We love this rainbow ring from made by mary!
Hydroflask! I'd be surprised if your teen doesnt already have one of these! My daughter loves to get new colors!
Zella leggings. I love to get my girls a new pair of zella leggings every year! They are the best!!
Portable Kareoke Mic! We got a few of these for christmas last year and they have been a HUGE hit. This new version has a record button, which is such a fun addition!
Have you heard of a Gabb phone yet?  We are in love with the concept of this phone!  It looks like a smart phone without all of the options.  They include a touch screen with unlimited talk and text, camera, FM radio, alarm, and calendar.  What we love is that there is no internet access or games, and you cannot send or receive picture messages.  The phone is $99 and the service is $19.99 per month.  The perfect starter phone, or just plain smart for kids to have!  Enter the promo code SWOON19 at checkout for $5 off your order!