Nordstrom Anniversary Sale 2019: JULY 12th- AUGUST 5th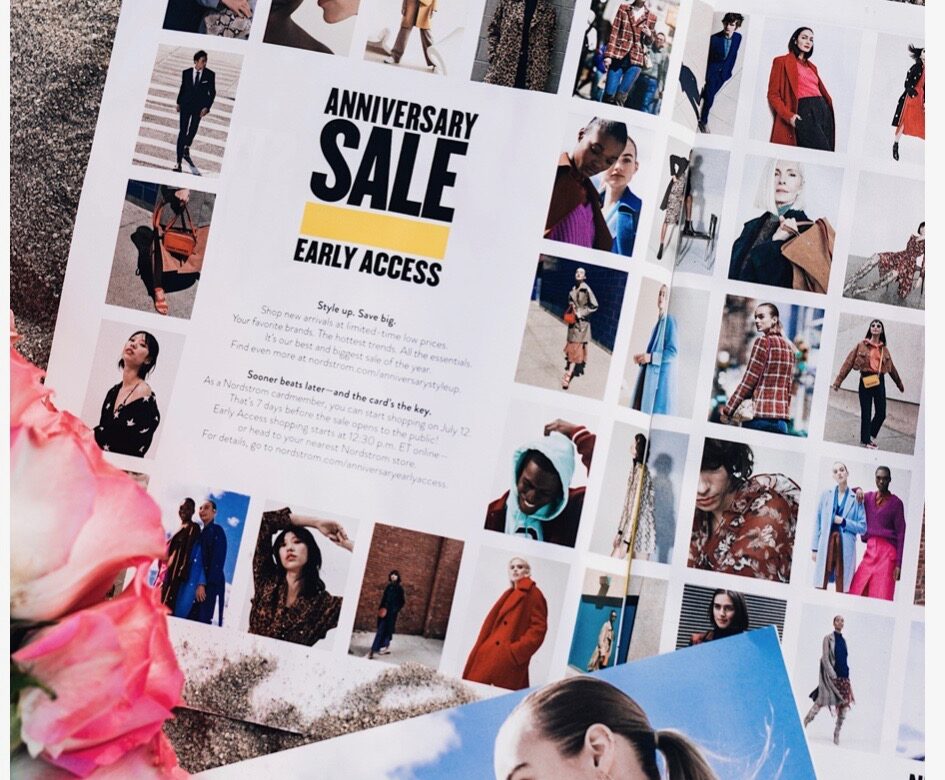 Get ready, get set, GO. The Nordstrom Anniversary Sale is only one week away, and Swoon Club has got your back! We have some great tips to help you get the best deals for not only yourself (but let's remember how important self care is), but all the info you'll need for your kids, your house, your husband, your mother-in-law … literally the best products that never go on sale except during this particular sale! If you're new to the magic of the Nordstrom Anniversary Sale, have no fear. We're ready to guide you through it all with FULL COVERAGE.
ANNIVERSARY SALE EXPLAINED. Nordstrom holds a couple of sales every year, but the Anniversary Sale is unlike the others for a few reasons. The Nordstrom Clearance Sale and the Nordstrom Half Yearly Sale are great because like most sales, they discount things from this current season or the previous season. The Anniversary Sale, however, only puts out BRAND NEW ITEMS. What?? That means you get the newest products available at a discounted price, which doesn't happen hardly ever. For 3 weeks, Nordstrom releases 100s of items at 30-40% off. You will notice that a lot of the sale items are fall-themed, but all that means is that you'll have to wait a few months before you get to wear your cute new coat or boots. Getting these high-quality clothes and products at such an insane deal is definitely worth the wait.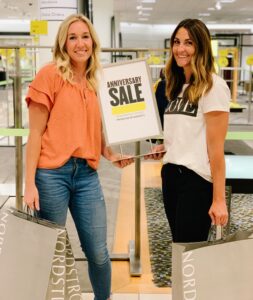 THE BEST TIP WE CAN GIVE YOU? BECOME A CARD MEMBER. No, this isn't some gimmick, and we don't get a kickback for telling you this. But seriously, if you want to get the best deals, you've got to become a card member because that means you get automatic EARLY BIRD SALES. Nordstrom card member holders get to shop up to 10 days before everyone else, depending on your card status. When the pre-sale launches, you're going to want to be ready to have access to the best stuff. That means, you gotta be prepared to shop RIGHT when the sale begins. Get your Nordstrom card HERE. If you apply and are approved, Nordstrom graciously gives you a $60 Note to go toward a future purchase. Last year it was only $40- so this is fantastic news!
Not everyone is into being a credit card holder, though, and we totally get that. Nordstrom also offers their Nordstrom Rewards program: its completely free to join, easy to sign up, and you earn a $20 Nordstrom Note for every 2,000 points you accrue! Join the Nordy Club HERE.
REMEMBER: We called Nordstrom ourselves to fact check a super important detail. If you already have the Nordstrom debit card/rewards program, you are automatically grandfathered in and can shop early. However, if you do not already have the credit or debit card, you can only sign up for the credit card now.
SHOPPING ONLINE VS. IN-STORE. ONLINE IS THE WAY TO GO. There are zero crowds to fight. Your cart is guaranteed. Know this: EVERYTHING from the Anniversary Sale is online, but not everything is in-store. One of the most frustrating things about the sale is that things sell out so quickly! Your best bet to get everything you really want, guaranteed, is to shop online and select store pick-up where you pull up curbside and they'll bring your purchases straight to your car. YES PLEASE! Also, if you are hoping to physically shop, you can just add on whatever items you find in store to your already-curated list. That way, you will be one satisfied customer. As far as RE-STOCK goes, there's no guarantee that items will be restocked for the public if they're sold out in the pre-sale first. Don't get your heart broken- add to cart and purchase, mama! *Keep in mind that every store has different buyers, so each store's inventory will be different.*
THE NEXT BEST TIP WE CAN GIVE YOU? JUST DO IT. If you see something that makes your stomach flip with excitement, add it to your card immediately and buy it right away! Yes, you're probably going to have a girls night with your besties and head to the sale in person, but don't risk that your favorite color and size of those Steve Madden booties will be out of stock by the time you get there. Take advantage of shopping online with the Nordstrom in-store pickup option and set your mind at ease. Nordstrom has an incredible return policy. If you feel some regret later (or your husband catches wind), you can always return your purchases, no problem.
STAPLES THAT WE STOCK UP ON:
BEAUTY. We buy most of our make-up for the whole year during the sale. They have incredible deals on all the sets and bundles you can imagine. This is also when we get stocked up on our favorite face wash (Purity) and deodorant (Donna Karen).
FITNESS. We love to stock up on our favorite Zella leggings and our favorite tanks! We also take major advantage and get all of our kids running shoes for the year, and maybe a pair or two for ourselves (#selfcare).
SHOES. Speaking of shoes, the shoes during this sale are always so good. We love to grab a cute pair of boots for fall, school shoes for the kids… basically we'll find any excuse to a good pair of shoes.
DENIM. No better time than to invest in a good pair of jeans! They always have a huge selection of brands that are heavily discounted, so take advantage!
BABY. You will find the best of the best products, which means this is one of the fastest categories to sell out. If you have been eyeing a high end stroller or car seat, now is the time!
LINGERIE. Two words: New Pajamas. We always grab a new set of pajamas along with a really good bra.
HOME. Take our advice: the Home sale is just as good as the clothing. This is a good time to get those extra accessories for your kitchen, bedrooms, and living space. Complete your home and save.
We are obviously SUPER EXCITED for the best sale of the year.Swoon Club is here for YOU. Let us know if you have any questions!
JOIN IN THE FUN!