Girl Gift Guide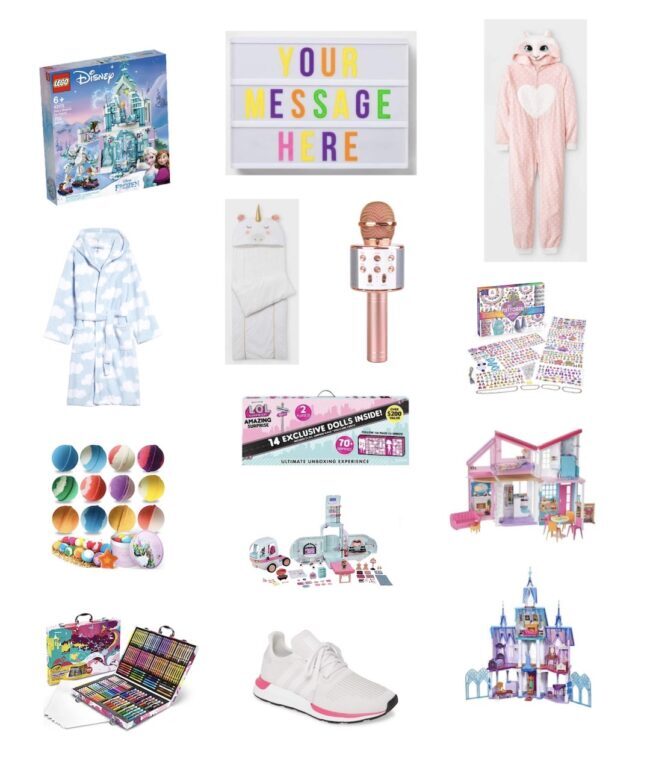 This guide features gifts for girls elementary school age.  This age is so much fun, and in my opinion the easiest to shop for! They are into so many toys and fun girly things….I had a blast making this guide!
Crayola Crayon Set:  I have found when my girls have good art supplies then they love to sit at the table and make creations together!  This crayon set is filled with colors and come in a nice set to keep them organized!
Karaoke Microphone:  We secretly love to play with this toy ourselves ha!  This microphone is cordless and has a built in speaker.  So much fun to sing with and carry all around the house with!
Hooded Pajamas:  This is something my girls look forward to getting every year.  They love to have a new hooded pajama onesie each year for lounging and sleeping. They are so comfortable!
Message Board:  How cute is this colorful message board?  I love the idea of them having something in their room to write cute messages or affirmations on each day!
Animal Sleeping Bag:  I am seeing these everywhere this year!  They are so cute and cozy!
Frozen Castle:  With the new Frozen movie coming out there are tons of toys being released promoting this right now.  This castle would be a bigger ticket item as a gift, but one elementary age (especially the younger ones) are sure to love and be excited about!
L.O.L. Surprise Set:  This set is huge!  We got this for our older daughter (who is 10) in October for her birthday and her and my younger daughter (7 years old) were going crazy over it!  There are SO many surprises to open in this box and they play with the dolls included and all the little trinkets for hours!
Barbie Malibu House:  Do you have a girl who loves Barbies?  This is the latest house for Barbie!
Frozen LEGO Set:  We love to get each child a big Lego set for Christmas in our family and sit and put them together with each other on Christmas Day.  This is a fun one for girls!
Cozy Robe:  We love this cute cloud robe! It looks so cozy!!
Adidas Run Swiftly Sneakers:  I am dying over how cute these are!  Always a good idea to throw some things in as gifts that are "needs" as well!  A new pair of shoes is always good!
Charm Kit:  How cute is this kit? It is filled with charms to make bracelets with.  I love gifts that provide a way to be creative!
Bath Bomb Set: This set is a great price for how many are included. Our kids love bath bombs!!
L.O.L. Camper:  This is a fun camper set to go with L.O.L. dolls!
Doughsie Dough Set:  You will see these on almost all of our kids' gift guides this year because truly every age loves these!  Again, such a great gift for sparking creativity!  Both of our girls love these so much!