Gifts for the whole Family!!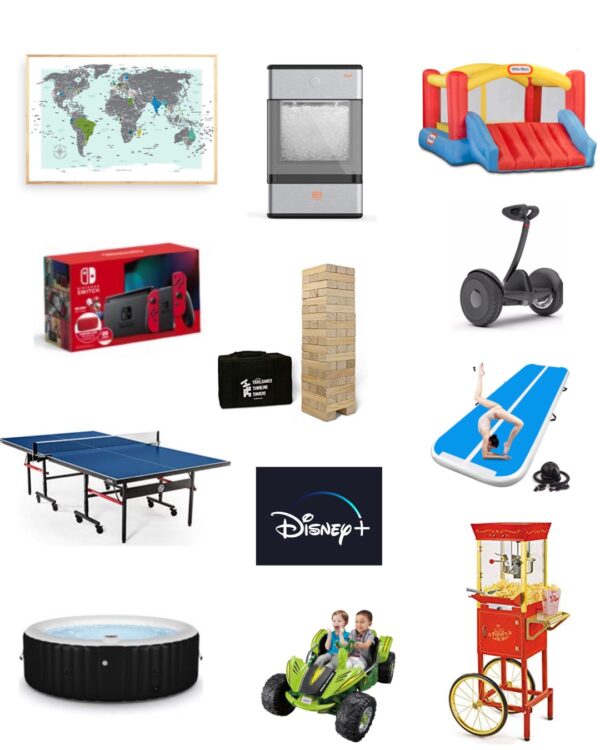 One of my favorite traditions growing up was the family gift that my parents had waiting for us after we opened all of our individual gifts. So fun to have something that everyone can do together! We have complied things that our family has and have loved or things that we think would be fun to have:)
Scratch off Map: These maps are so fun! You scratch off all of the places that you have visited. Such a fun thing to hang on your wall! Would make a great gift for any family! I love this one  in particular compared to other ones I have seen around because it fits into a standard frame, and it has a matte finnish which looks a lot nicer to me. Plus they are made in the U.S! Enter: SWOON at checkout for $13 off your order!
Pebble Ice Machine: If your family is pebble-ice obsessed like ours, you know they will love this!! On sale right now, too!
Little Tikes Bounce House: We have talked about this thing a million times simply because our kids LOVE this thing! If you have a family of young kids, this would be a great investment!
Nintendo switch: This is something that the whole family can enjoy, plus you can turn it into a personal hand held nintendo when you travel!
Giant Jenga: I have a friend that has this and says it is so much fun to play with your whole family! When it is completely finished, it reaches 5 feet tall!
Segway: We both one this exact segway and have had SO much fun with it over the last year. I will also add that it is extremely useful. I jump on it to run around the neighborhood!
Ping-Pong Table: Our family LOVES ping-pong! It has been so much fun having his in our home to use as a family or entertain friends.
Disney Plus Membership: I cannot tell you how much we have been LOVING having Disney+. Think Netflix for Dinsey, Pixar and Marvel movies. My husband and I have had so much fun showing our kids all of the movies we watched as kids! This would be a great family gift!
Air Track: If you have anyone gymnasts/dancers/people who like to do tricks, these air tracks are all the rage! They are kind of inbetween a tramp and a spring floor. They come in all different lengths so that you can make it work in your home. You can use inside or outside!
Inflatable Hot Tub! We gave our family a Hot Tub last christmas and have used it so much! I recently heard there are inflatable hot tubs on the market, and was pleasantly surprised that they have decent reviews! This would be a great option if you arent wanting to totally splurge on real one.
Power wheels dune racer: My aunt has this one and my kids have so much fun on it! Power wheels always take the cake on christmas! Am I right!?
Popcorn Machine: My parents got this for us last christmas, and it is definetly one of the most used items in our house! Makes movie night and entertaining so fun!! This one is the perfect size and is super easy to clean! Worth every penny!