Gift Guide for Men 2019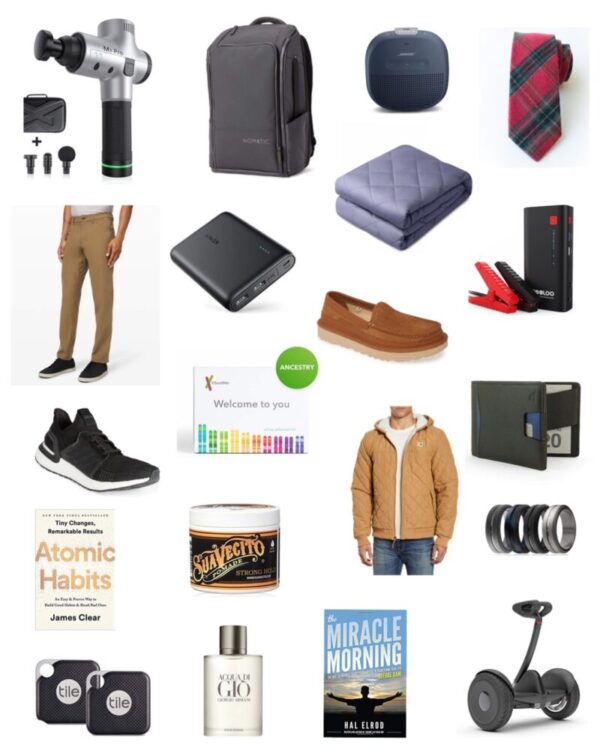 Husbands, boyfriends, brothers, dads…..oh man, why are they so hard to buy gifts for!? We have searched high and low for the best gifts for the men in your lives to make Christmas shopping easy!
 Nomatic Bag: If you have never seen one of these bags, make sure to click the link here and check them out because they are INCREDIBLE!  If you are shopping for a man that travels often he will be so impressed with this travel bag!
Lululemon ABC Pants:  Both of our husbands and dads have these pants and highly approve.  These are super versatile pants yet extremely comfortable at the same time.  They can be dressed up for business casual or dressed down with a pair of flip flops.  I don't know a man who has tried these on and not loved them!
Portable Jumper:  These portable car jumpers are so awesome.  They can also be used to charge phones and are even great to take on camping trips as a power source!

23 and Me Ancestry Kit:

 We mentioned these in the Gift Guide for Mothers this year as well.  I personally loved giving one of these to each of my parents last year so they could do this together!  These at-home kits give over 125 results on DNA, ancestry and more.

Bose Bluetooth Speaker:

 Every man loves a good speaker and this one is top-rated. It is the perfect size to stick in your suitcase for a trip, or carry to the beach.  We own one of these and the sound is phenomenal!

UGG Slippers:

 Moms are not the only ones who need cozy slippers!  Get your man a pair too!

Adidas Ultraboost:

 Adidas is killing the game this year with their new styles they have put out and this one is one of their best!  Get your man a pair of stylish sneakers he is sure to love!

Andar Wallets:

 This brand has so many awesome options for gifts for men.  Their leather wallets are stylish, yet very minimalist….perfect for a man!

Hat Rack:

 Does your man like to wear hats?  He will love this rack to hang in his closet and keep them accessible and organized!

Anker Portable Phone Charger:

 My husband cannot leave home without his Anger portable charger.  These hold their life exceptionally well giving multiple charges to your phone and extremely fast!
Theragun:  This percussion gun gives amazing muscle and deep tissue relief!  Perfect for after a workout or a long day's work!
Weighted Blanket:Weighted blankets have proven to help immensely with restlessness, anxiety, insomnia and more.  They are so comforting without being hot!

Cologne:

 Christmas is always a good time to restock your man with some good smelling cologne!  This one is a classic and always a crowd pleaser!

Tie:

 We love this company for finding good looking ties. What is even more fun is if he has a son you can get him a matching one to wear with dad!
Silicone Wedding Ring: These rings are awesome for men to keep on while they work out, or to take on vacation. My husband prefers these over his real one, and I dont blame him… they are much more comfortable!
Segway: We have this same exact one and I cant tell you how often we use this! They are so fun to cruise around the neihgborhood, at the office, or to walk the dog, when you are feeling extra lazy!
Morning Miracle Book: This is one of our newest favorite self help books! What a difference a purposeful morning can make in your personal life as well as your business. My husband has just started this and is LOVING it!!
Atomic Habits Book: Just finished this book, and absolutely LOVED it! One of the core concepts in Atomic Habits is to focus on the small improvement. The impact a 1% improvement per day can make may appear negligible at first, but Clear makes a compelling argument that in the case of habits, thinking small produces the biggest results over time.
Northface Jacket:  Loving this incredibly versatile jacket! It is quilted with Heatseeker Eco insulation delivers quality warmth and water protection with a water-repellent finish. Combined with a plush faux-fur lining!

Suavecito Pomade:

My husband has been loving this pomade brand! It 

dries with a medium hardness without a crunchy finish!