Best of 2019!!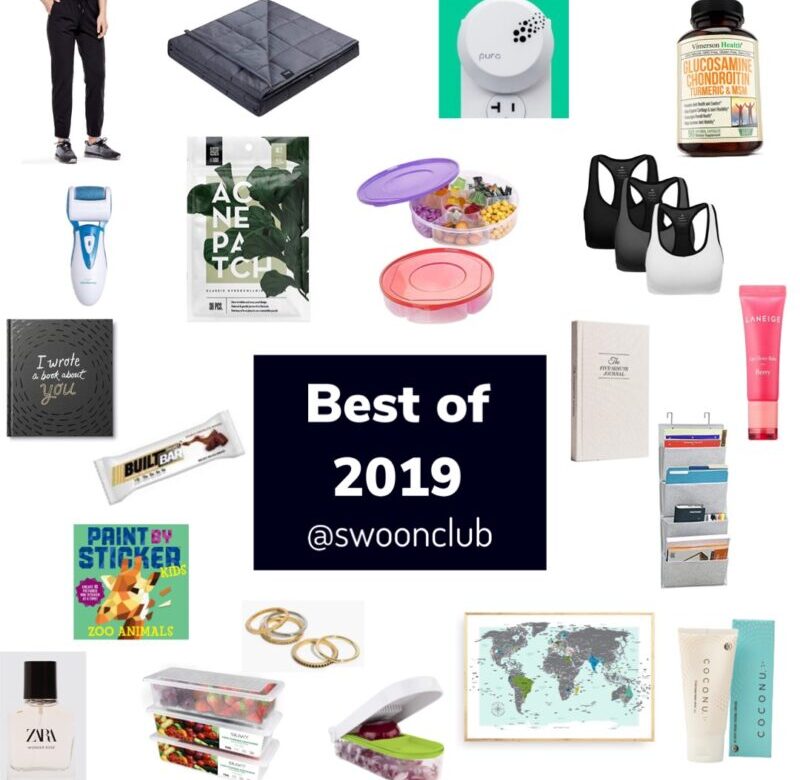 Happy New Year!! We are so excited to present our top products of 2019 on Swoon Club! We love nothing more than being able to share our favorites with you everyday! Thank you so much for following along and for all of the support! We love our Swooners!!
lululemon "On the Fly" DUPES: It is no surprise that this was our top seller this year! We have been wearing the real deals for a long time, and were STOKED to find an exact replica for 1/3 of the price! They are the most versatile pants ever that are so easy to dress up or down! Comes in a ton of colors and we recommend sizing up!
Weighted Blanket: I truly don't know if I love anything more! The weighted blanket has been absolutely life changing for me! I sleep a million times better, and the second I put it on, I feel so much calmer.
PURA: Its no secret that we are obsessed with our PURA smart home scent system, and we are so glad that you are too! Plug the system into the wall, add scents and control everything from the scent intensity, to the schedule all from your phone. Life changing!! Enter "SWOON" FOR 15% off of your order!
Joint Health Vitamins: This year I started running more than normal, and have suffered from knee and joint pain in general. After doing a lot of research I came across these and they have been a total game changer. Contains Glucosamine, Chondroitin, Tumeric, and MSM.
Electronic Callus remover: This little guy was wildly popular this year! This tackles all of those stubborn calluses that are impossible to keep smooth! It has worked wonders on my cracked heals! It is also much safer than using pumice stones, metal files and grater-like tools.
Acne Patches: I wish I wasn't still an adult with acne, but turns out I am not the only one! These acne patches have been saving me for a long time now! When you get a pimple, you simply put the invisible patch over it, and watch it work its magic! Can you imagine if we would have had these as teenagers!?
Snack containers: We are OBSESSED with these, and it turns out you are too! Think charcuterie boards for kids! We love to fill these containers with all different things for our kids when they get home from school. has dividers throughtout and comes with a lid so you can throw it in fridge! We love to take these in the car and pass around during busy carpool days!
Best sports bras: Obsessed is an understatement. These check all of the boxes for me and the other 7000 positive reviewers! And the price!? You can get 3 sports bra's for $22. My favorite part about them is how wide the are! They Cover that troubled area between my boob and armpit so well!
Scratch off Map: This map has been so fun to display in our home and makes the BEST gift! comes solid gray and then you scratch off the places you have been and there is a pretty color underneath, The more places you have scratched off, the more colorful it'll be. We love this one in particular for its thick matte paper and designer finish. Will fit in a 24×30 frame or pin up on a corkboard. Use code "SWOON" FOR $14 OFF at checkout!
Coconu: The best "KY" you will ever use! But thank goodness it isn't actually KY bc we have recently learned that most of the mainstream lubricants contain harmful ingredients such as paragons. It also doesn't help that the vagina absorbs things at a rapid rate making it extra dangerous and can lead to cancer. Coconu is made with all natural ingredients that are 100% safe. We are so happy that so many of you are not only loving it, but are avoiding all of those harmful ingredients!!
Veggie Chopper! Never chop and onion again! This thing has been a game changer in the kichen! We normally hate to have extra kitchen gadgets, but we will gladly make room for this one! It can chop most veggies, and comes with a spiralizer blade too!
Built Bar: These bars were new to us this year, and we have become huge fans! 15g of protein, 110 calories, and really great flavors with a light and creamy filling. Use promo code: SWOON2020 FOR 10% OFF
ZARA perfume! This has been a HUGE hit on Swoon Club! This particular scent from zara is our absolute favorite! People will literally stop you to ask you what it is that you are wearing! Best part!? under $20!!! If you haven't already bought this, trust us on this one!
Food storage filtered containers! These are awesome to store fruits and vegetables in! The filter on the bottom takes any liquid which makes them last much longer!
5 minute Journal: We love this simple gratitiude journal that only takes 5 min a day! Makes such a difference in allowing you to shift your mindset in a positive way. I have noticed a big difference since I started this.
I wrote a book about you: We first featured this cute book as a gift idea for Mothers Day! It is designed to be filled out by you with the help of cute writing prompts, and given to someone you know really well! Sometimes I struggle to think of personalized/memorable gifts, so we were super stoked about this $12 find!
Madewell stacking rings: I have been wearing these stacking rings for the past 3 years in place of my wedding ring. They are just so cute, and I am glad you guys all agree!
Paint by Sticker books: Our kids are obsessed with these…Heck! WE are obsessed with these. Make a picture by matching the sticker to the number. A perfect quiet activity for church, travel etc…
Laneige Lip Mask: This lip mask broke the internet a few years ago, and its no surprise why! It is the most hydrating formula that I have ever tried. I love wearing the pink as a barely pink neutral. We also love this container vs the jar! Easy to slip in our purse and not get our fingers dirty:) comes in 4 flavors!
Over the door hanging file system: This is a quick and easy system we use with all of  our kids school papers, bills,mail, whatever. ANYTHING to not have piles of papers on our counters!