Best Group Games!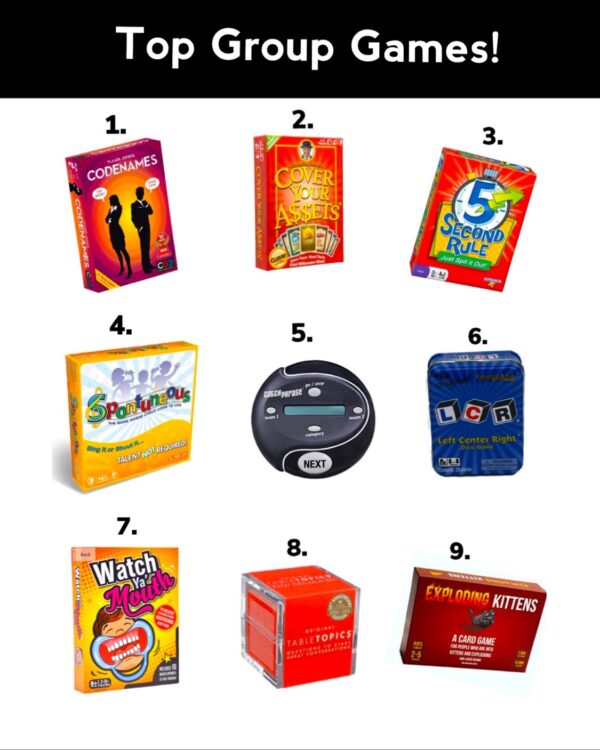 Its that time or year, when games ae played more than ever! Time to get everyone off of their phones and interact with eachother! We have done a lot of research and have rounded up some of the top games to play with a group! We have played almost all of these ourselves, and trust us when we say these are SO FUN!! Grab them now and have them delivered by thanksgiving!
CODENAMES

:5 solid stars for a reason.This game is SO.MUCH.FUN. Great for just about any group, including various ages. This is awesome for people (like myself) who don't have the patience for lengthy directions and rules. Can be learned in 5 min!! We have been playing this non-stop with our couple friends, and our kids! such a good one.

COVER YOUR ASSETS

: EVERYONE loves this one!! You'll learn it in five minutes and then want to play it for five hours! No joke!! It is super competitive but CRAZY fun. And please don't blame us for your addiction!

5 SECOND RULE

: Pick a card, read the seemingly easy topic, then start the timer! Now with only 5 seconds to name 3 things that fit the topic.

SPONTANEOUS

: Simple party game to play for all ages and musical tastes. A word is given and it's a race to blurt out any song containing that word. No singing skill is necessary and play crosses generations!

CATCH PHRASE

: 

Electronic Catchphrase game challenges teams to guess words and phrases! This is such an easy game to whip out and play around the table. Intense, but so much fun!  

LEFT,CENTER,RIGHT

: a fun, fast-paced dice game that you won't be able to put down. My family has been playing this for years and we can't get enough. Throw dollar bills in to make it extra intense and competitive!!

WATCH YA MOUTH

! Players wear cheek retractors and speak out phrases while teammates guess what they are saying. This game is VERY entertaining, to say the least!

TABLE TOPICS

:A fun way for family and friends to reconnect and discover more about themselves and each other. This would be awesome to play around Thanksgiving dinner, especially if you need some good ice-breakers for those relatives, you don't connect with super well!

EXPLODING KITTENS

: 

This "game of the year" award winner is the perfect  If you're looking for board games for adults but want to be able to play fun games with your kids as well.

"It's like UNO, except there are goats, magical enchiladas and kittens that can kill you. Only 

takes 5 minutes to learn, and 15 minutes to play!