Baby Gift Guide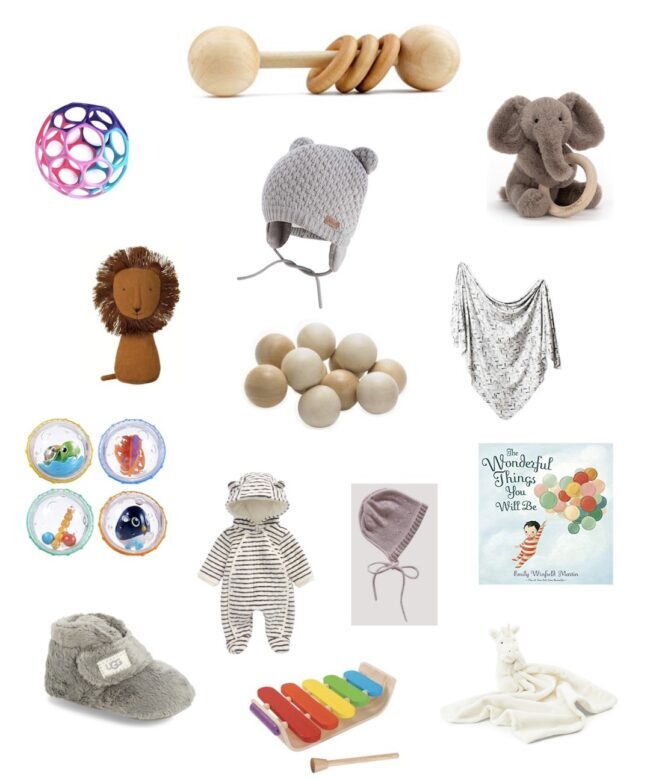 Nothing is sweeter than a baby's first Christmas!  And let's be honest, you can totally get away with not spending a lot of money but still getting them some cute little gifts.  They need are some soft things to cuddle and little toys to rattle!!
Ugg Slippers:  How adorable are these!?  These are sure to keep their little toes warm all winter long and for a fraction of the price we pay for Ugg's!  Stylist, warm, and not super expensive…I would call that a no brainer!
Warm Onesie:  We love this plush onesie! This one is pretty gender neutral, but click the link and you can see other options for the print.  Squishy babies are the best!
Beanie:  Gotta keep their heads warm too!  These are adorable, from Amazon with free shipping on Prime, and have raving reviews!
The Wonderful Things You Will Be:  I love books like these!  So sentimental and sweet to read to your baby!
Wooden Rattle:  It is amazing to me how much cuter baby gear is now then even four years ago when my twins were babies!
Copper Pearl Baby Swaddle:  We love anything and everything from Copper Pearl!  Their fabric is top of the line and the softest we have found anywhere! They have TONS of prints to choose from.  I love these because they are thin and still breathable while being super soft and snuggly!
Floating Bath Toys:  Bath time is so fun with a baby!  These are super cute floating toys with little creatures inside, sure to keep them entertained in the water!
Jelly Cat Elephant:  My two oldest kids were given a Jelly Cat stuffed animal as babies and they loved them!  They are super soft.  This cute little elephant is holding a wooden ring which I think would help your baby to hold his little furry friend even better!
Jelly Cat Unicorn Snuggler:  This is one of those adorable mini blankets with a little stuffed animal attached.  I love how easy these are for babies to cart around with them in their carseats and snuggle up to their face.
Ball with Holes:  This ball is a classic that has been around for quite some time.  They are designed to be super easy for babies to hold onto and are stimulating with their bright colors.
Wooden Xylophone:  As baby gets older there is nothing more fun than banging objects, am I right!?  This cute wooden xylophone gives them something to bang while making their own music!
Wooden Beads:  We love all the wood toys can you tell?!  My sweet little niece has these wooden beads and I love them.  They are joined together with an elastic which allows them to slide around continuously changing the shape how the balls are arranged.
Lion Rattle:  Baby's love sounds, especially if they are making them on their own!  These cute little animal rattles are the perfect size for them to be able to grip and shake!
Jamie Kay Bonnets:  Every time I see these bonnets I am so sad they weren't around when my girls were babies!  I die over them!  She has so many styles to choose from but this is one of my favorites.  They aren't too hot and can be used during all different seasons throughout the year, or even inside just to be cute!!