A Few Simple Tips for a Clean and Functional Closet
I share a decent sized walk-in closet with my husband.  If I am being honest, it can't stay clean and tidy longer than a day.  It is all too often our "dumping ground".  This year we are both on a mission in our two homes to create spaces for everything and get organized!  We don't have to be organizational gurus to achieve this–just a few simple products put into place can give everything a home and keep things more tidy and functional.  This week I (Katie) cleaned out and organized my master bedroom closet.  Here are a few products that helped me!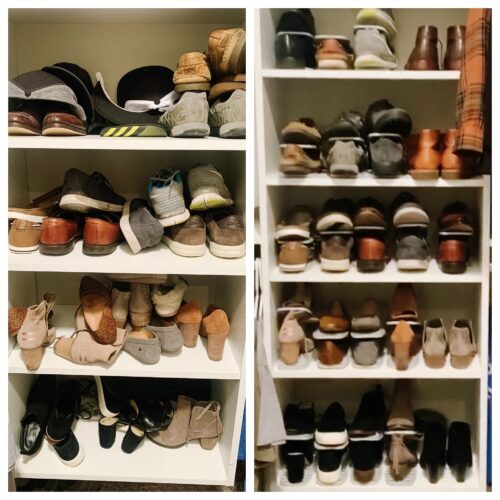 Let's start with shoes….the never ending battle in my closet!  They seem to be in massive piles no matter what (as you can see in the before picture on the left!).  I needed to find a solution while still making sure I was saving space.  Any type of cubby or shoe box was not going to solve the problem.  I came across these awesome shoe stands! These keep your shoes organized, allow you to fit more per shelf, and keep your shoes visible at the same time.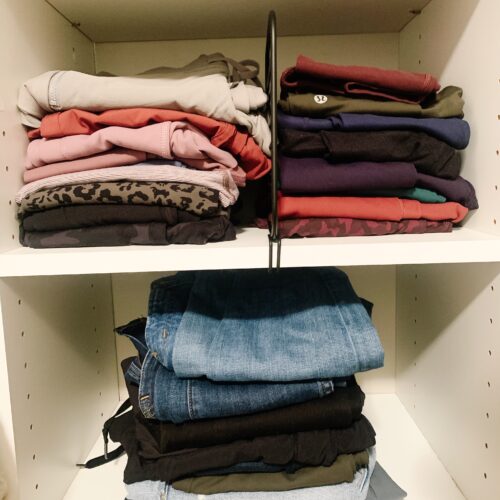 I also use my shelves in my closet as a place to store my leggings (I have a major problem….don't count them!), as well as my jeans/pants.  Those piles always start out nice and neat and end up in a pile within the shelf.  I found these shelf dividers which will help keep them in their separate piles and things tidy!  Makes me so happy!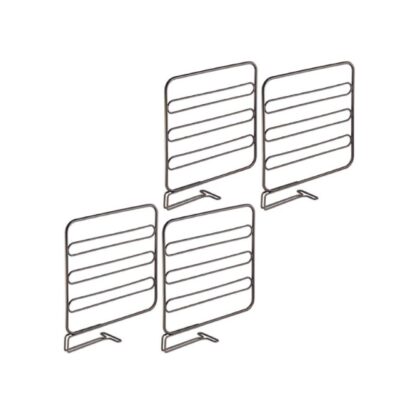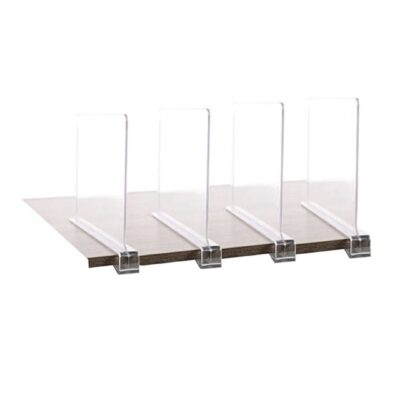 After I had already purchased and used my shelf dividers I found these acrylic ones that are SO pretty…so if you need something like this and want it a little prettier here ya go!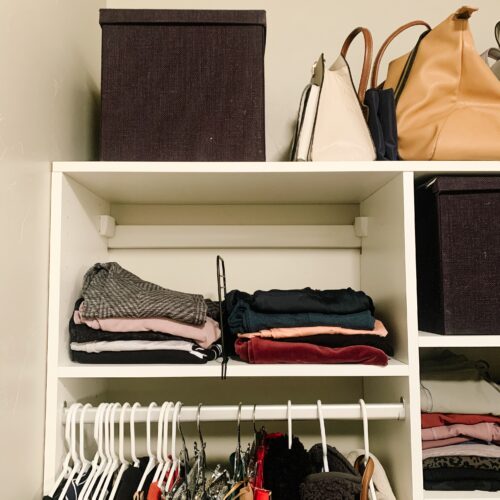 There will always be odds and ends that need a home as well, so I think it is always a good idea to have storage bins of some sort to keep at the top of the shelf.  I always buy mine from Ikea.  They have so many different colors and options to choose from and are super inexpensive.  If you do not live closet to an Ikea, I will make sure to link some below. I like to keep my swimsuits in one since they don't need to always be accessible and take up drawer space.  I also store my summer sandals in one to free up shoe space during the winter.  I also keep a step ladder in my closet so that I don't want to rip my hair out when I need to get something from up top-ha!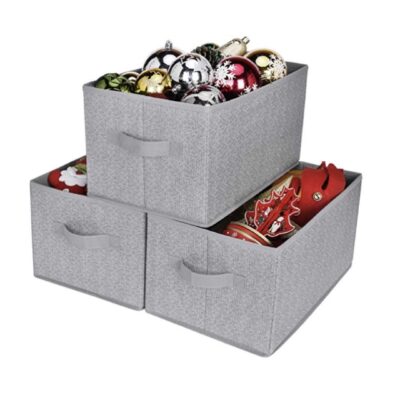 Here are some good bins if you don't live closet to an Ikea.  It is super handy to have handle on the front when pulling them down!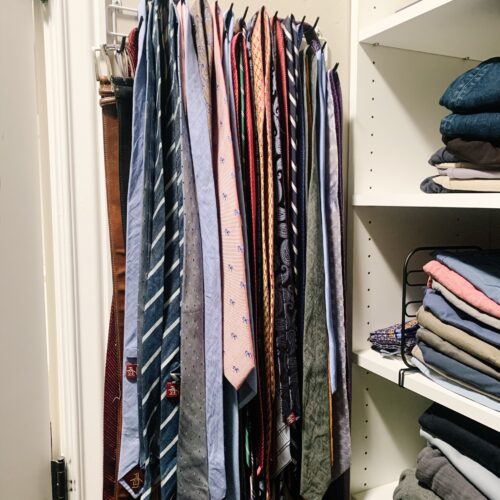 We often get a lot messages requesting recommendations for storing mens' ties.  This is the rack we have used for a long time and it works great!  I like that it is on the wall so it is not taking up hanger space.  It also has so many hooks, and you can double up.  As you can see from this photo above, it can hold A LOT of ties.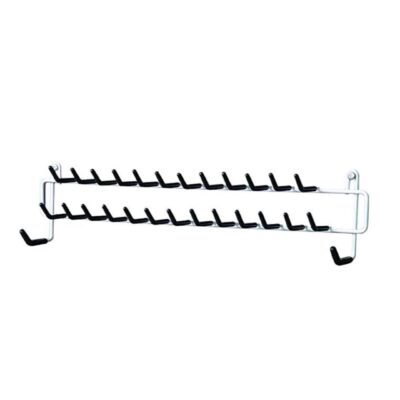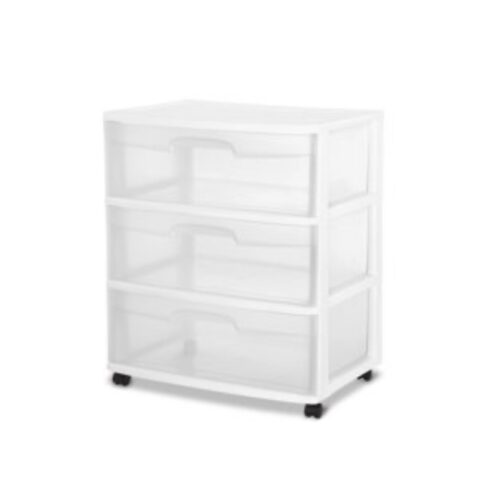 Last, but not least, if you have the space I really recommend getting some drawers wheels like this one above.  I have one that fits nicely under my hanging skirts and is tucked out of the way.  I keep my shopping bags that I save in one drawer, tights and slips in another, and some odds and ends.
As you can see it doesn't take a lot to clean up your closet!  Investing in just a few things can make a HUGE difference to give every item its own space eliminating clutter and chaos!  Happy organizing!