Boy Gift Guide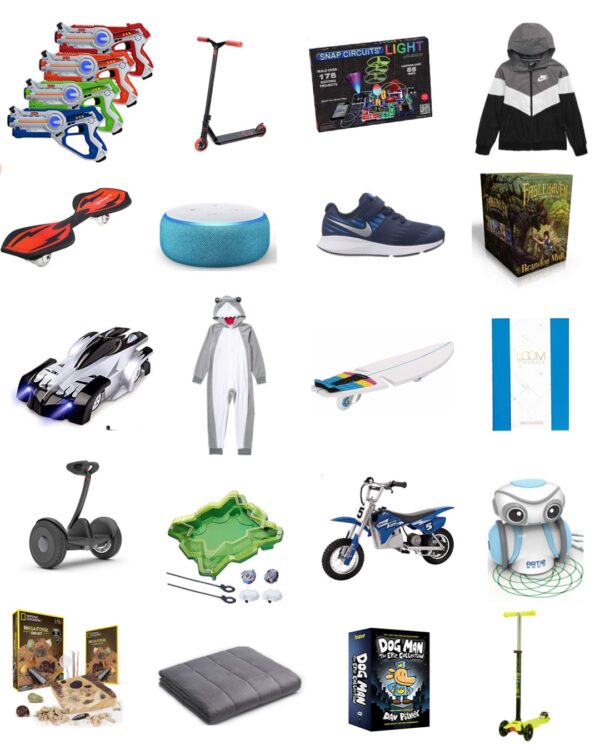 This guide is perfect for Boys ages 5-12! These are items that we already have and love, or things that our boys are asking for!
Laser tag guns. We got these a few years ago for christmas, and they were a HIT! Even my husband loves to play with them!
Pro Scooter: This is at the top of my 10 year olds list this year. The pro scooter allows them to do more tricks than a standard scooter.
Snap Circuit lights: We have never had these, but they have incredible reviews! 

Build over 175 amazing projects with over 55 color coded circuit components! 

Hands on introduction to electronics learn how to construct real working circuits, devices and fiber optics

Plug in your iPhone, Android phone or any MP3 player and see your circuits reac! 

Includes full color instruction manual with over 100 pages of educational fun 

LEARN BY DOING – Ideal for young engineers ages 8 and older

Nike Windbreaker

.

My son saw this at the store and was obsessed. He couldnt wait til his birthday or christmas, so he ended up buying it with his allowlance! Its a good one!
Ripstick: I

ncline caster trucks and pivoting deck provide snowboard-like carving ability. 

Unique design allows acceleration and turning without pushing!

Kids Echo Dot. All of my kids have these in their rooms, and use them allll the time! We like to use them as their alarm clocks , an intercom for me to reach them, or to listen to audio books. There are endless uses, and all filtered just for kids.
Nike's: I usually always grab my kids a new pair of shoes for christmas and these nikes are a great deal!
Fablehaven book series; My 10 year old boy is really into this series right now! If you have any Harry Potter fans, they will love this series too!
Wall climbing remote control car: This car that can climb walls and ceilings is sure to be a good time!
Shark onsies: Its not only the girls that love the animal onsies, boys love them too! I got one for my son last year, and he has used it all year long!
Ripsurf: If you have a boy that loves to surf or wake surf, this is a perfect gift! 

The ripsurf's patented design allows riders to carve and cut like a Real surfboard, but on Dry land! 

I would suggest this for any boy ages 8+ as it is a little tricky!\
Loom journal: a prompted back and forth journal that is perfect for strengthening parent/child relationships!
Segway: We both have this particular segway, and I cant even tell you how much fun we have had with it! I know there are lots out there, but we have been so impressed by the quality of this brand!
Beyblades! These are all the rage amongst our boys right now! The are basically spinning toys that battle against eachother.
Razor Motercycle: 

Scaled down, battery-powered electric moto-cross dirt bike for off-road riding

Super quiet, single speed, chain driven motor with a twist grip throttle control

Large knobby tires; hand operated rear brake and battery life is up to 30 min

Speeds up to 14 miles per hour with no pedaling needed! This is perfect for ages 10+

The coding Robot: 

The creative way to learn coding: Artie 3000 is the Coding robot for kids where you design the code, and Artie 3000 draws the lines! With preprogrammed designs, beginners can start coding right away!

Fossil dig kit! This kit looks like so mcuh fun! Use the tools of the trade, chisel, brush and magnifying glass, to excavate incredible real fossils! Comes with a 16-page learning guide that illustrates how fossils are formed and helps young scientists identify each specimen as it's discovered!
Weighted Blanket! My 10 year old boy looooooves his weighted blanket, and never goes to bed without it. Helps him relax and sleep so much better.
Dog Man book series: If your boy hasn't read the Dog man books, they are really fun! Dog Man is the crime-biting canine who is part dog, part man, and ALL HERO! This three-book boxed set includes the first, second, and third books in the Dog Man series: Dog Man, Dog Man Unleashed, and Dog Man: A Tale of Two Kitties.
Micro- Kickboard. If your son isnt looking for a pro scooter, this are our favorite normal one! Definetly built to last!